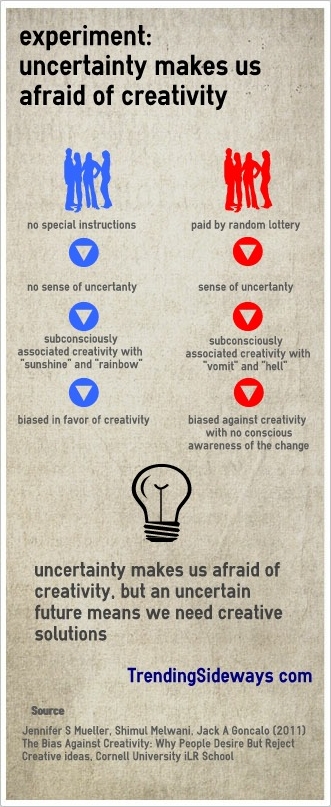 What if creativity wasn't what you thought it was? What if was measurable, repeatable, almost tangible? What if it was possible to manufacture creativity?
On one level, the idea that creativity could be manufactured is almost terrifying. On another, it's exciting. It means that we can foster it, encourage it, and that we don't have to be born with it.
Economies, businesses, and, of course, people, rely on creativity more today than ever before. Sometimes it is disguised under the label "innovation" or "ingenuity," but we're talking about the same thing.
Creating something that didn't exist before.
Of course, creativity continues to defy any universally precise definition. But is there a method to creativity? A process? A growing number of researchers believe so, and they are setting out to discover it, with surprising results. Much of the time, our expectations are confirmed.
Other times, we find out we had it dead wrong.
For the short version, browse the infographics on the right-hand side of this post. Click here to skip to a short list of takeaways.